Toddler Program (Ages 1 to 3 years)
Emotional Development:
Feed self
Play alone
Express affection to others
Briefly delay immediate needs and wants
Use imagination in play
Assert independence, sometimes
Help with simple chores
Be cooperative during dressing (e.g. coat)
Attend to a task for a brief time (e.g. 2-4 minutes)
Show interest in toileting
Aware of others need
Social Development & Living:
Parallel play with others
Imitate activities and actions
Share with others occasionally
Assist others with simple tasks, sometimes
Participate in a small group for periods of time
Initiate social responses with people
Physical Development: (Gross motor)
Bounce while sitting/standing
Kneel
Pull self to a standing position
Stand alone
Creep
Walk independently
Kick
Twist body March
Throw a ball
Jump
Push/pull toys
Run
Pick up objects from the floor
Cognitive Development:
Respond to stimulus
Imitate behaviors/sounds
Explore own environment
Play with objects and toys
Point to three body parts (e.g. hair, nose, eyes, etc.)
Recognize own name
Respond to simple requests/directions
Name three objects (e.g. verbally)
Match and pattern
Remember some previous information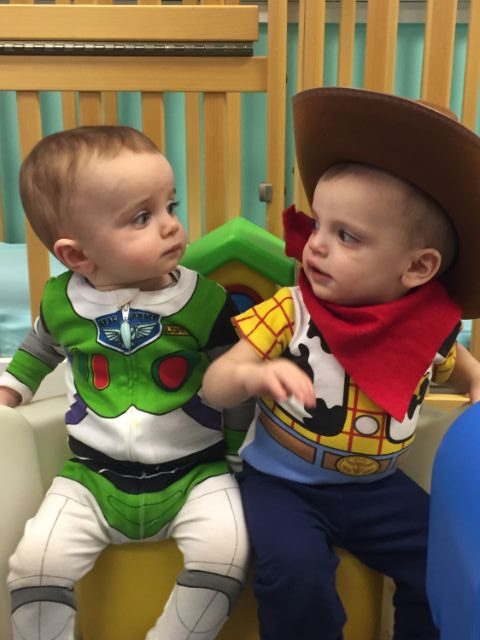 Fine Motor:
Grasp
Shake
Point
Drop
Squeeze/bang/pound
Pull
Attempt to stack/build
Stir
Empty/fill
Pour
Scribble
Turn Pages
Use a spoon
Paint
Dumping/picking up
Expressive skills:
Babble and chatter
Repeat sounds
Repeat simple words
Sometimes participate in simple songs and finger plays
Imitate single word communications.
Language: (Receptive skills)
Respond to sounds and locate their direction
Respond to own name
Identify simple sounds
Listen to short stories/look at simple picture books
Music and songs